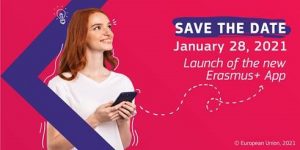 Erasmus+ App launch event on 28 January
Together with the European Student Network and the European University Foundation, the Commission is organising a promotional event to officially present and launch the newly revamped Erasmus+ App, which will take place on 28 January, online via Zoom.  
The programme includes introductory statements by Director General Themis Christophidou and a welcome speech by Commissioner Mariya Gabriel as well as an interactive panel discussion among students and Higher Education representatives, who will discuss the features of the brand new app. We are happy that a representative from the EPICUR alliance is part of the panel. 
Feel free to join the event and bring the students from your alliances!
You will find more information on the programme and registration here.
EYE Online Event on 27 January
We also further encourage you and your students to follow the European Youth Event (EYE) Online session on "European Universities – How can students shape these universities of the future?". This will take place on 27 January, between 11:00 – 12:00. You will be able to follow the live stream on the Facebook page of the session. 
The session will welcome Director General for Education, Youth, Sport and Culture Themis Christophidou, together with two students of the European Universities, to talk about student engagement in building the alliances, and their vision for the Higher Education Transformation Agenda.  
---
Data publikacji: 25 stycznia 2021